"I observe that tribal belief is no more peaceable than ours; and that it suppresses individuality. People think collectively; first in terms of the community, extended family and tribe.This rural-traditional mindset feeds into the "big man" and gangster politics of the African city: the exaggerated respect for a swaggering leader, and the (literal) inability to understand the whole idea of loyal opposition."- Matthew Parris, Atheist
"Anxiety – fear of evil spirits, of ancestors, of nature and the wild, of a tribal hierarchy, of quite everyday things – strikes deep into the whole structure of rural African thought"- Matthew Parris, Atheist
"Those who want Africa to walk tall amid 21st-century global competition must not kid themselves that providing the material means or even the knowhow that accompanies what we call development will make the change. A whole belief system must first be supplanted.- Matthew Parris, Atheist
2 disclaimers before I get saddled by some orthodox Gatekeeper:
1st, Yes I am a Christian and I believe the Good News of Jesus Christ raised again should be shared with everyone,
2nd, I am a postcolonial because of Jesus and his life, his ministry, and the Old Testament prophetic tradition. If you haven't read this blog before, now you know.
This is my response to The Gospel Coalition's latest post on Africa which is basically affirming an Atheist who is promoting empire. If there is one thing that Western Christians and atheists have in common it is a shared legacy of colonizing bodies of color. In the above quotes, I cited atheist Matthew Parris' GODLY (according to the Gospel Coalition) article, As An atheist, I truly believe Africa Needs God, I just wanted to point to the problematic approach that Parris is taking. It's not the good news of Jesus rising from the dead he wants Christian missionaries to share. Missionaries are Parris' preferred vehicles for Western values, capitalism, and rugged individualism. Notice that his conclusion is all about the material possessions that Africans could have if they only accept white Jesus as dey lawd and saviah, ahem!
Matthew Parris' article is a prime example in the long line of racist secularists who teamed up with racist "Christians" to promote empire. For every Jonathan Edwards, there's a David Hume. For every John Piper, there's a Deepak Chopra. Imperialist Christians and so-called humanists alike look at Africa through Colonizing Gazes, as AFRICA is always the childish, immature backwoods, rustic country always in need of depending on the good-hearted Western nation-states.
Facts do not matter when it comes to racist myths, always remember this. Africa has a great number of Christians. Any simple research on African Christianity will lead you to see that African Christianity is not about Eurocentric religions or theology. I have also talked about the obvious long history of Christianity in Africa, but more importantly, there is no such thing as a united Africa, first and foremost. The reason why Africa is organized the way it is now, struggling nation-states (code: imitating European colonizers) was because of the British, German, Italian, Dutch, and American empires imposing themselves through violence on Africans. Yes, Matthew Parris stepped into Africa (but did he tour the entire country, ooops I MEANT CONTINENT!!!!), but he brought his racist, essentialist, imperialist gaze with him. Africans are not people to him, they are objects to receive the West's goodness (grace?).
Now, in the TGC article,*
"He [Parris] effectively illustrates how a Christian worldview may be the only thing weighty enough to crush traditional pagan worldviews that stifle and stunt."
Later in a conversation on Twitter, a member of the TGC defended the comments:
Paganism, if it is just "the rustic way of life in the country side," Jesus needs to save country folks and what? Deliver them into the city? No, that's not how pagan is being used here. It's about African Traditional Religions, with their beliefs in the spirits and ancestors. Do you know what a pagan looks like? Here is a picture of a pagan: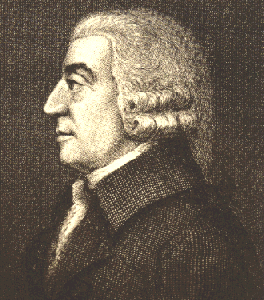 Adam Smith was a pagan. The Gospel Coalition keeps defending Adam Smith, therefore, they are pagan. Why is Adam Smith pagan? Because he based his economic system off of Greek philosophy and polytheism, that's where the idea of the Invisible Hand comes from. It took a good free-will believing Christian named John Wesley to confront Adam Smith's paganism. And Africa needs to be saved from witchCraft? What about the Warlocks of Deception at the TGC and their stance on race: singing the praises of holy hip hop one day, but praising neo-confederate Douglas Wilson the next. In the Bible (remember King Saul), witches called upon dead souls who were resting in the Valley of the Shadow of Death. I don't see any difference between that Witchcraft and the TGC Calling upon dead white guys to promote an oppressive theology!
In undergrad, I had a Ghanian who told me about his experience in the school system there, how Christian holidays are recognized by everyone, and even non-Christians have to recognize them (it's a holiday, yo!), and I remember how this story just really bothered me and made me question the way I saw Africa, not as the eternal essential oriental other I was taught, but as unique, with cultures as equally valid and made in the Imago Dei as all others. Parris is promoting the exact opposite, Africa's cultural inequality (something the Gossip Kkkoalition's homeboy, Douglas Wilson also affirms). NeoColonialism/Empire, regardless of the defender's creed (atheist or calvinist), is an equal opportunity racist.
*Editor's note: This post has been corrected to reflect the articles linked.
Related articles